Itinerary
Day 1
While Alberta is known for its stunning mountains and lakes, it also boasts impressive badlands and world famous dinosaur fossils. Heading north east from Calgary, drive 90 minutes to the Royal Tyrrell Museum. Give yourself a few hours to explore the various exhibits in the museum which include mounted dinosaur skeletons of the T-Rex, Triceratops and others. It houses more than 130,000 fossils including those from Dinosaur Provincial Park, a UNESCO World Heritage Site, nearby. Don't be afraid to get up close and personal with these curiously beautiful yet intense creatures. Once you have read up about these magnificent fossils, have taken enough selfies and feel like some fresh air you can marvel the hoodoos in Drumheller less than half an hour away. These Hoodoos are unique geological wonders with a Martian like atmosphere caused by natural erosion at work.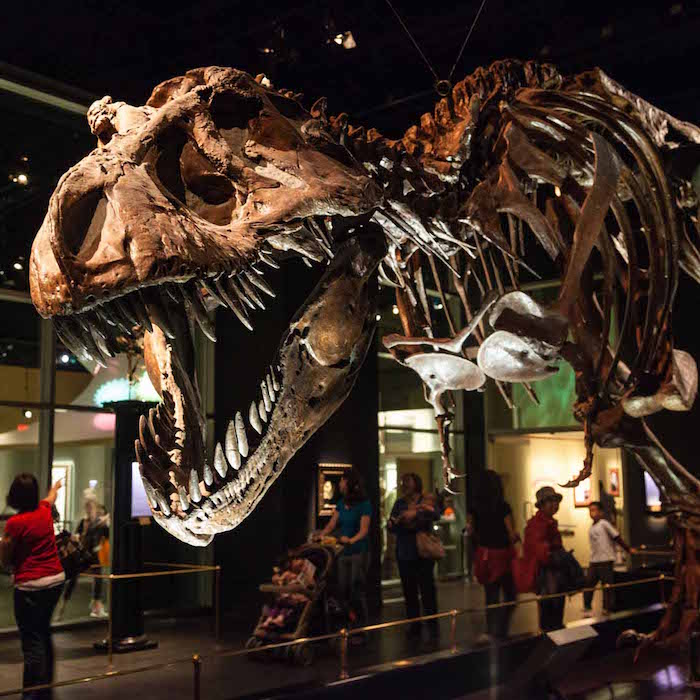 Royal Tyrrell Museum.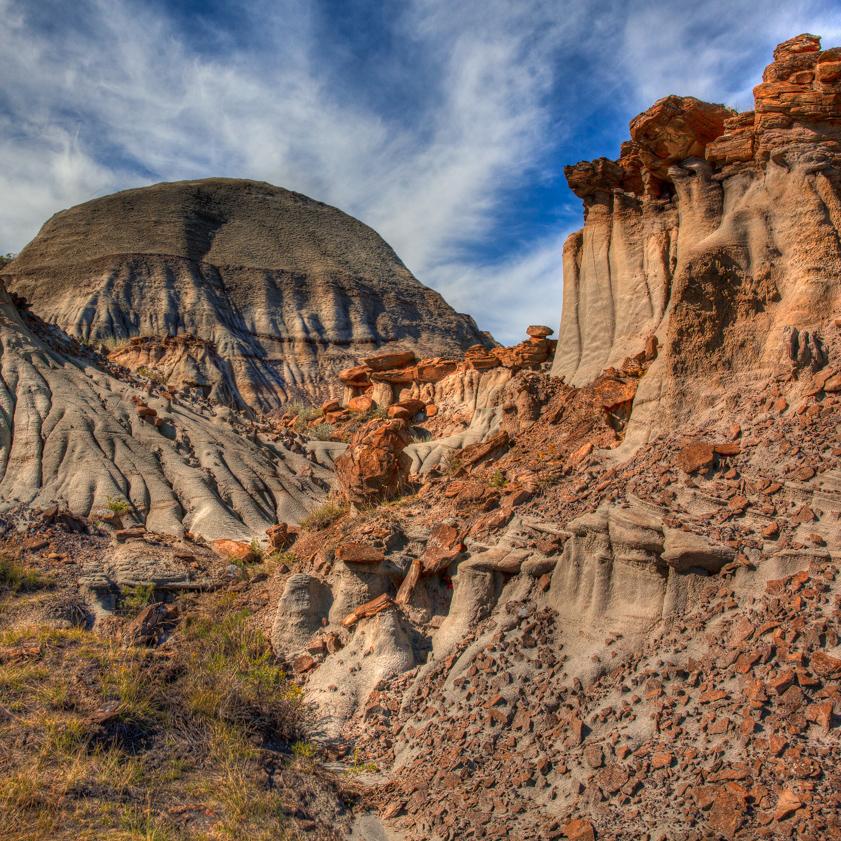 Fossils at Dinosaur Provincial Park.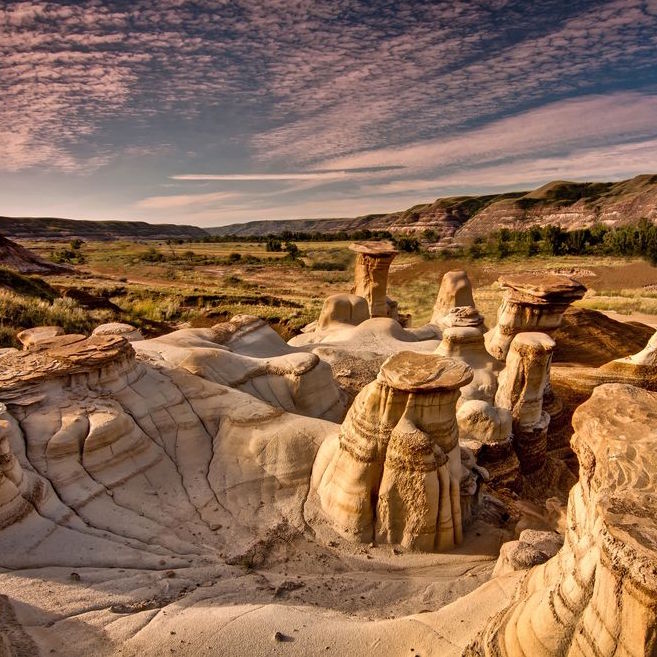 Be a martian with the Hoodoos.
Day 2
Now that the history and geography sightseeing is over, next step is to see the natural wonders this province has to offer. You start off by soaring to the top of Sulphur Mountain on the Banff Gondola ride and experience breath taking 360°, Rocky mountain views. Ready for something more grounded and possibly wet? You can check out the Johnston Creek, a tributary of Bow river dotted with falls, gorges, hiking trails, tunnels, pools, meadows, valleys and of course the Johnston Canyon; a sheer limestone rock formed by water erosion over thousands of years. Feel free to dip your feet in the fresh flowing mountain waters. After doing all that walking and exploring you can catch a break with relaxing views of Lake Morraine or Lake Louise. It's got great hiking trails with some unique food and drinks nearby.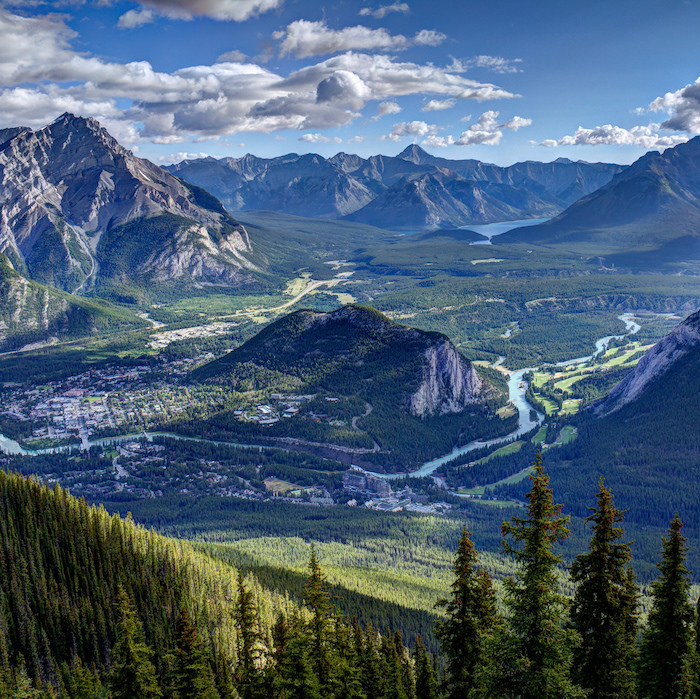 360° view from Sulphur Mountain.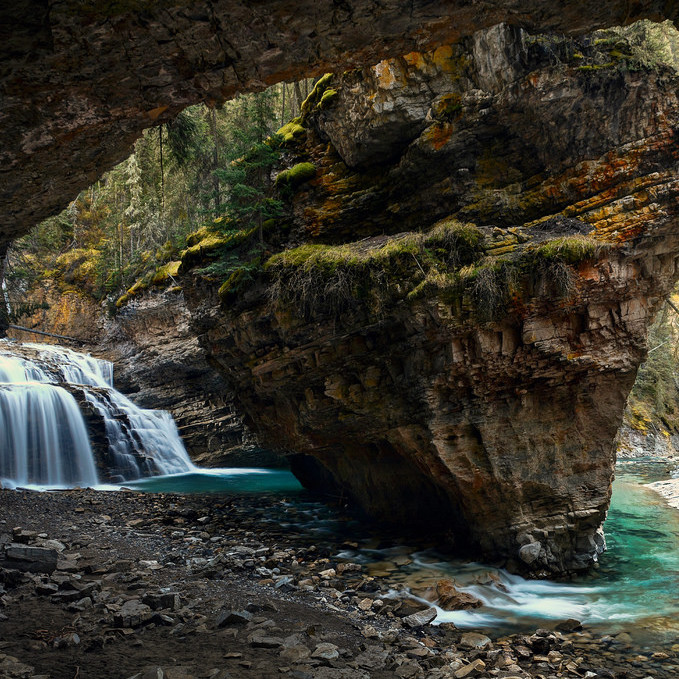 Exclusive hidden gem of a hike.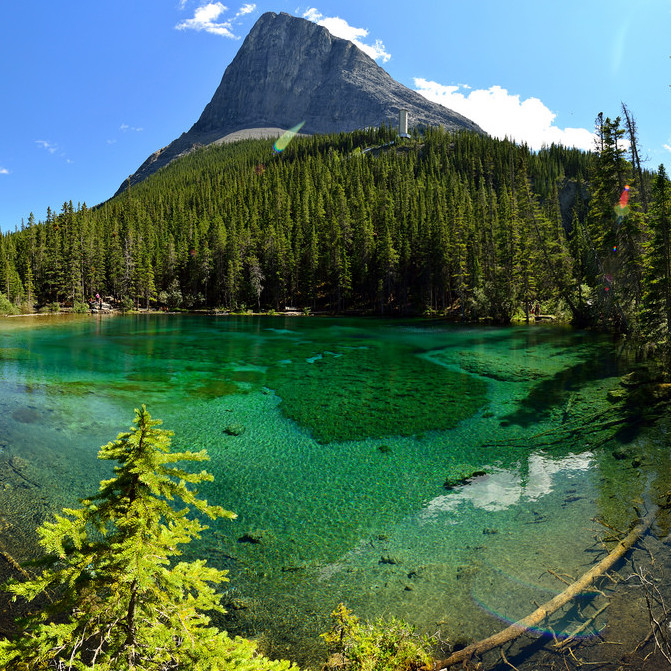 The incredible lakes of Alberta await.
Day 3
First stop is Peyto lake. It is glacier fed with significant amounts of rock flour that give the lake that illustrious turquoise color. Go ahead and get your feet wet. After seeing all that pristine water you might wonder where it comes from. Well wonder no more as the Athabasca Glacier is just an hour and twenty minutes northwest. Nestled between Banff and Jasper, is the most visited glacier in North America. The leading edge of the glacier is within walking distance making for some weirdly cool memories especially if you are in your shorts! Be careful of many hidden crevasses though. After enjoying all these nature sights you can head on up to the poetic town of Jasper. A smaller version of Banff but still packs just as much punch. Dotted with storied sites and quaint little shops it can be romantic as well as adventurous at the same time.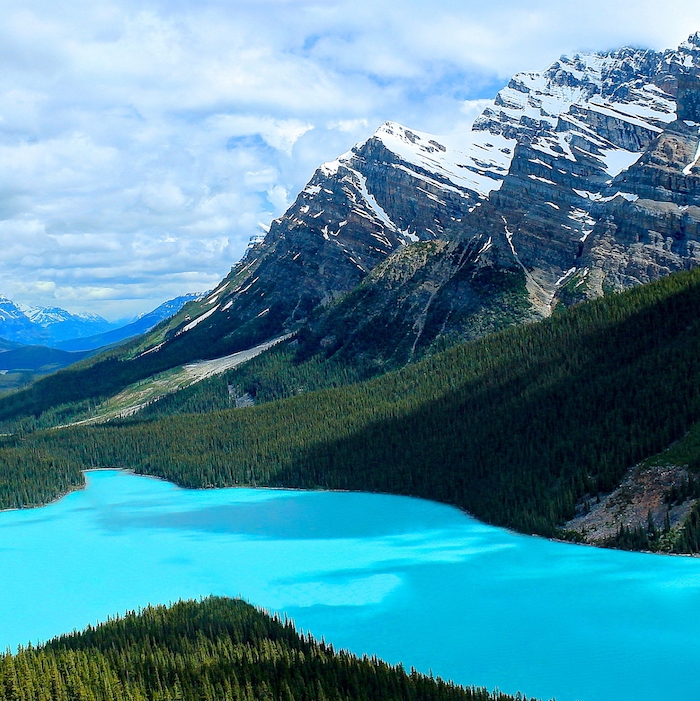 This type of flour, rock flour, makes turqouise lakes.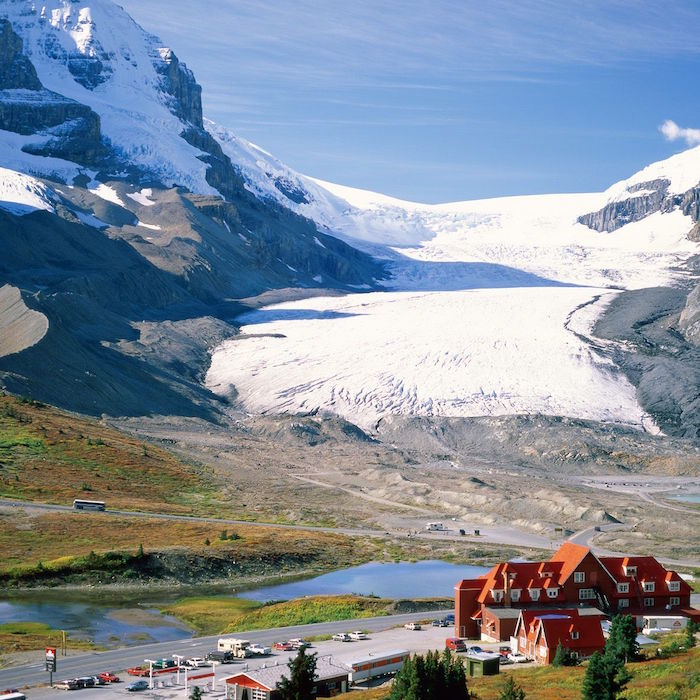 The Athabasca Glacier.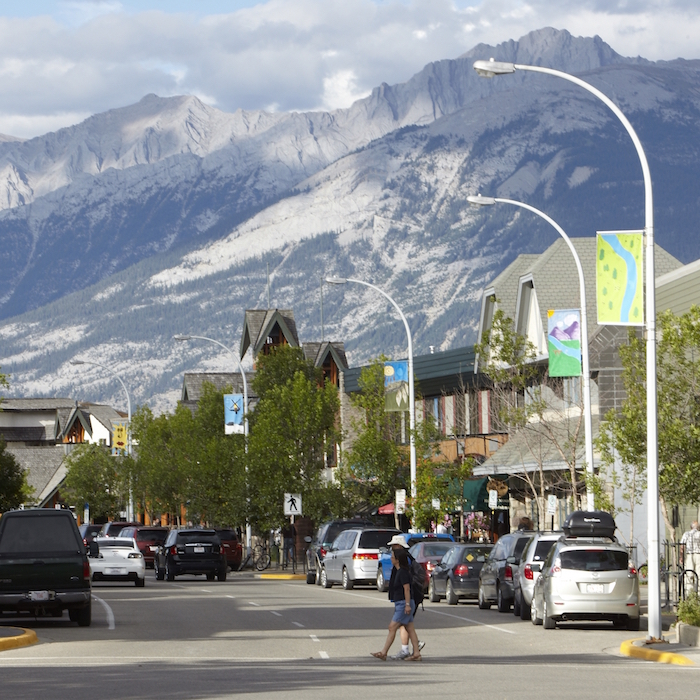 Find romance in Jasper.
Day 4
Today is a day for waterfalls and stars. You will head to Athabasca falls about half an hour away. It is about 80 ft deep and 60 ft wide giving you a many powerful pictures to take. This one has a lot of bite so be careful when walking the trails around it. Next is another falls called Sunwapta. A bit smaller than Athabasaca but no less spectacular it boasts an upper and lower falls where the former is mostly visited. The water is fed by the Athabasca glacier, the glacier you enjoyed a day earlier. After you soak up Sunwapta Falls, it's time for stargazing. In 2011 the Royal Astronomical Society of Canada designated Jasper National Park as a dark sky preserve, where almost no artificial lighting is visible at night. So pull out a blanket and start looking for the constellations. After that you can head to grab a nice dinner at the Downstream Lounge in Jasper.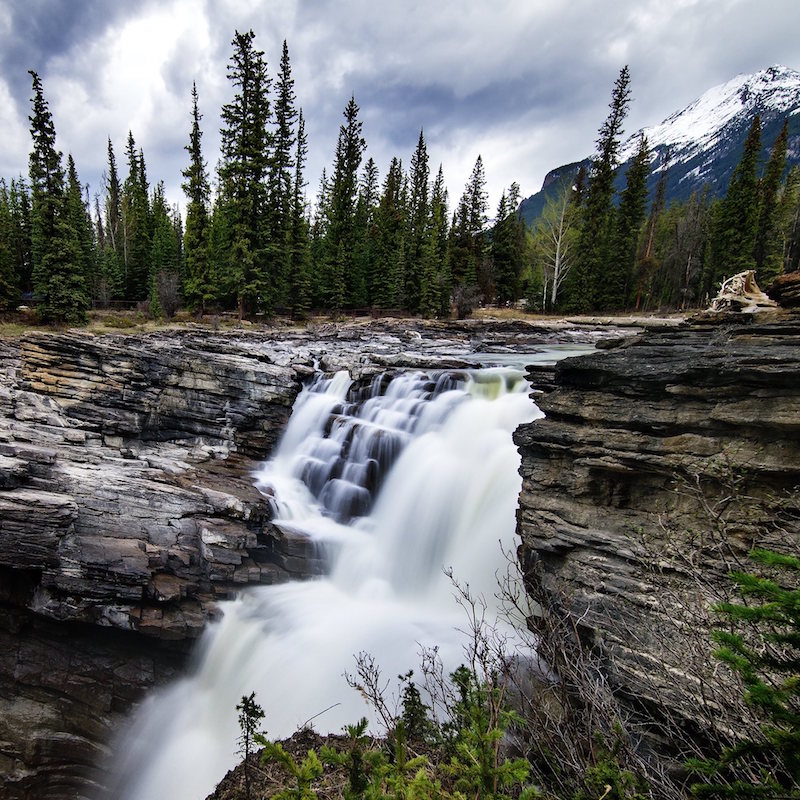 Experience the 80ft Athabasca Falls.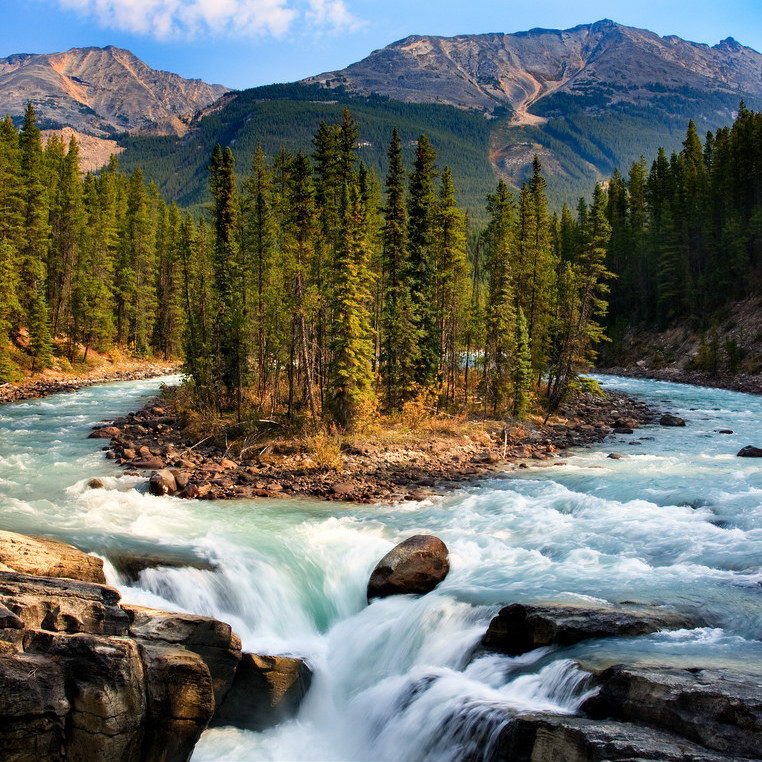 Next up - Sunwapta Falls.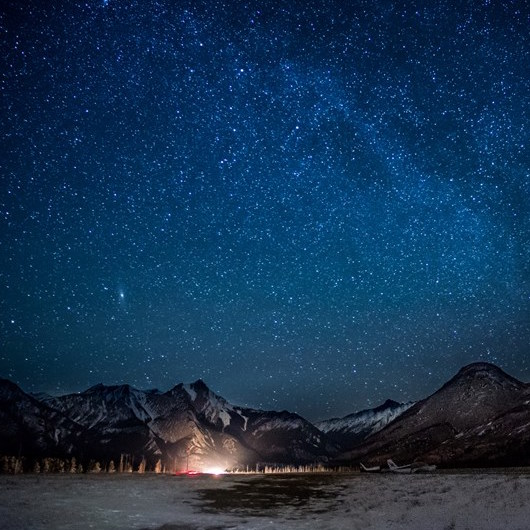 Starry Night, experienced best with someone you love.
Day 5
Mount Robson is the highest point in the Canadian Rockies and it is in British Columbia, the province next to Alberta. It's a beautiful yet difficult mountain to conquer as there is no easy way to the summit. However you can enjoy wonderful hikes nearby and relax in the lakes close by. Now that you have seen a peak its time to head for a valley. And this valley is pure water nursed by the Maligne Valley watershed which is glacial fed. It's a relatively shallow lake with a relaxing atmosphere. If you want to see a bit more nature including some wildlife head over to Maligne Lake, about 40 min away. It is famed for the colour of its water, surrounding peaks and the three glaciers visible and Spirit Island, a frequently photographed islet. You can take the boat to the island. There are popular hikes along the Skyline Trails, Opal Hills and Bald Hills. This lake area is teeming with grizzlies, black bears, caribou, wolves, moose, mountain sheep and bald eagles to name a few.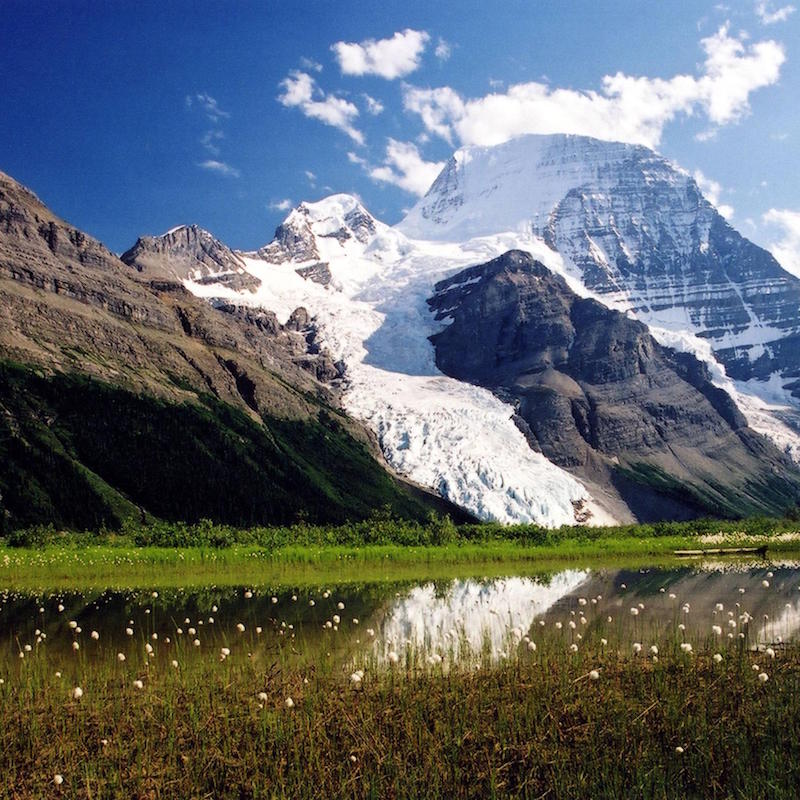 Mt. Robson - Highest Point in the Rockies.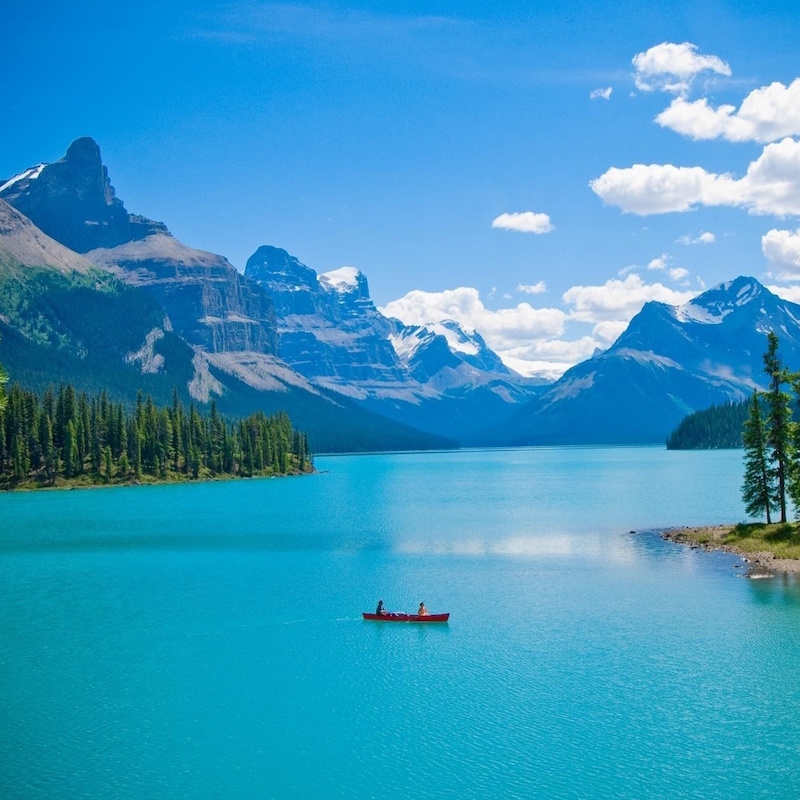 Gorgeous Maligne Lake.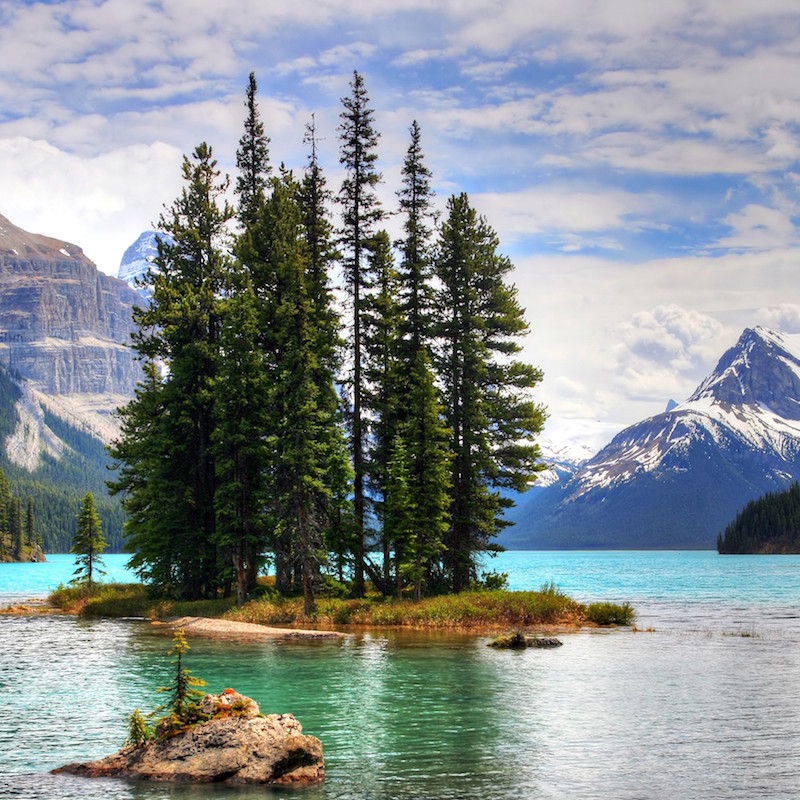 Take a boat to Spirit Island.
Day 6
In the final day of Jasper adventure, Miete hot springs is the prescription for sore feet from all the hiking, bird watching, star gazing, bear spotting and other memorable adventures. This one is commercially developed that offers views of the Fiddle River Valley located about 50 min northeast of Jasper. After that calming bath its time to head back to Calgary. Don't forget to grab a delicious and unique meal in Jasper, sampling some of its local content. Enjoy the views on the drive back.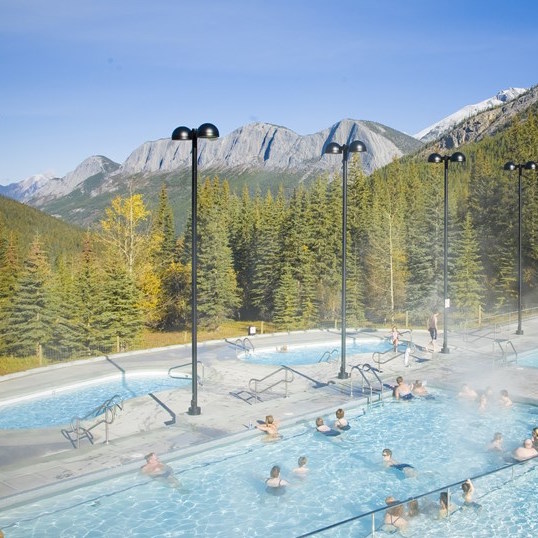 Recover in the Hot Springs.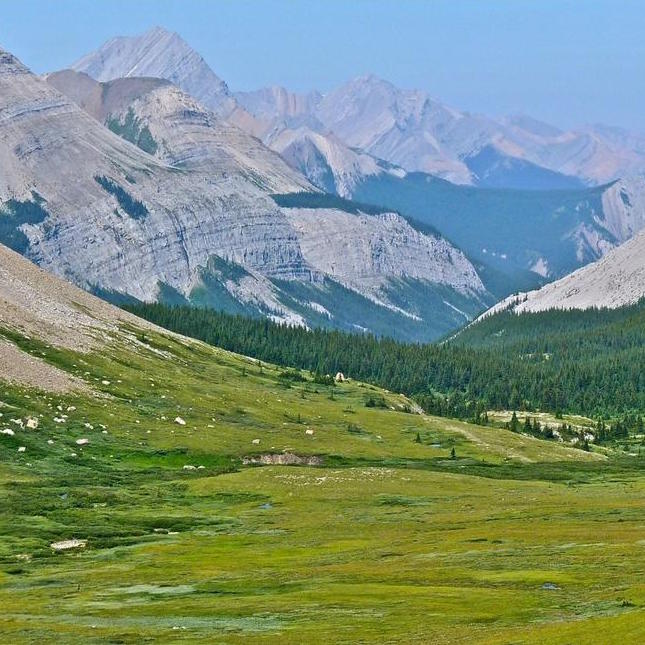 Views of the Fiddle River Valley on the drive back.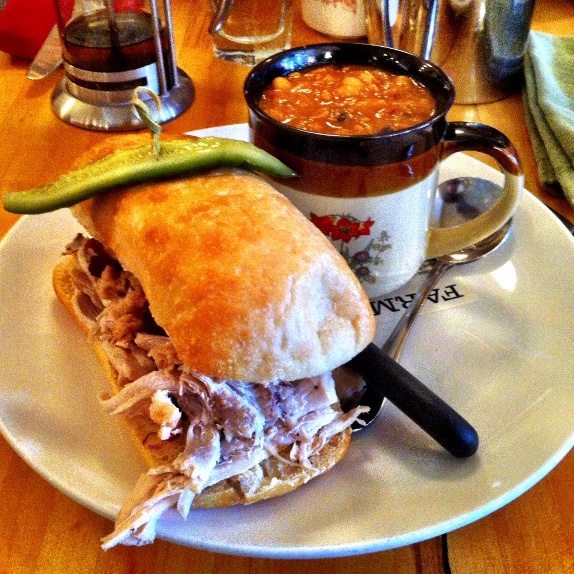 Calgary Food.